My Rockstar Moment in Waterbom
written on July 30th, 2013 by Monica Villarica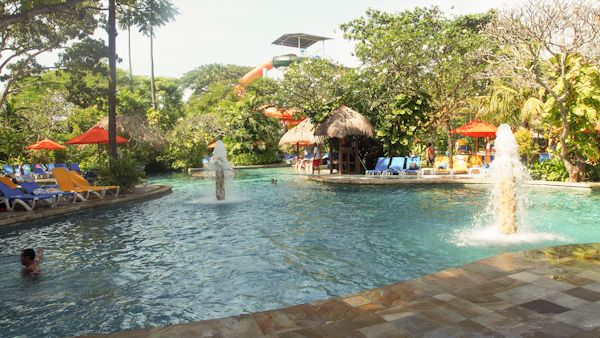 You know that cliché saying Don't judge a book by its cover? That's exactly what you should have in mind when visiting Waterbom in Kuta, Bali. Don't let the unimpressive façade fool you – parking lot, simple ticket booth set up, and a store. Get passed that and Waterbom will blow your mind.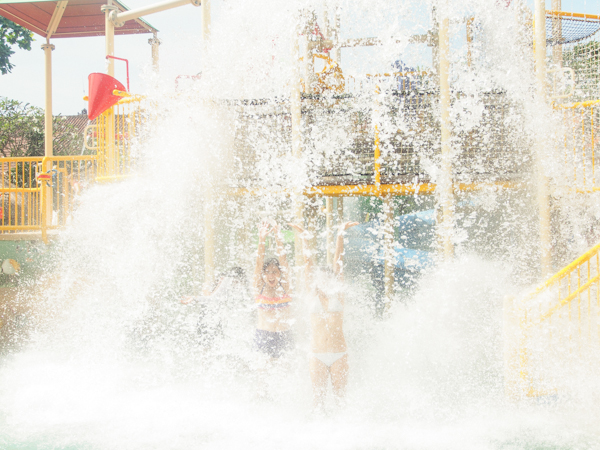 Something For Everyone
Waterbom has all kinds of waterslides and leisure activities for all ages. They seem to have something for everyone – from a mini kiddie park for the little ones to pamper huts for the less adventurous mommies. For the rest, they have waterslides and water activities with thrill ratings from 1 to 5 (5 being the most thrilling).
Despite all the moisture, they manage to keep everything clean and safe. Cleaning personnel keep the bathrooms spotless and the pools are clear and pristine. They also have a few outdoor restaurants around, so you won't go hungry while you spend the whole day there.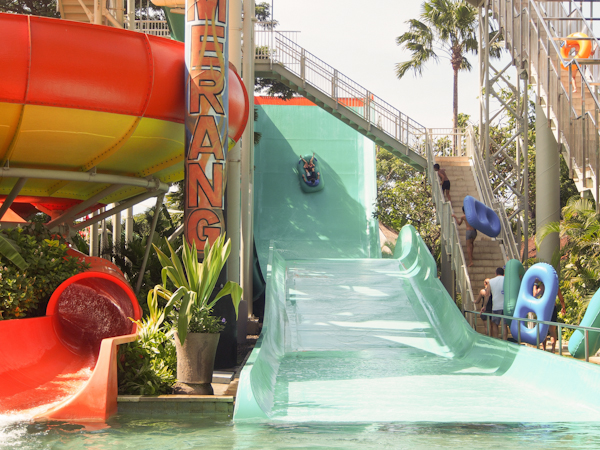 Ultimate Waterbom Experience
After trying out some of the milder waterslides, my siblings and I along with our dad decided to take it up a notch by trying the most thrilling slide in Waterbom. It's called the Climax.
To start off the Climax, you enter a chamber with a trap door that's 16 meters above ground. While inside, a countdown goes off reminding you of how close you are to your impending doom. Before you know it, the trapdoor gives way and your body goes on a vertical dive. You get sent down a loop before sliding upwards and looping down again leading to the end of the ride. Sounds pretty crazy, right?
Before lining up, they had to check my weight making sure I was 45kg or more. Any less and I wouldn't have been allowed to do the slide. As we lined up, I felt the flutter party the butterflies in my stomach were having. It also wasn't helping that you could hear the screams from people going down the slide. I couldn't contain my nervousness and my family wasn't a great help either. They actually added to the fear by teasing that I'd get stuck in the middle of the ride. Good thing the ride had cautionary signs in case that happened.
My dad was ahead of me and asked if he should scream. Obviously, I told him not to, but sure enough, as the trapdoor gave way under him, I heard him scream and give a tiny laugh. That was it for me. I crouched down and started screaming, "Oh my god." I didn't notice my siblings and the people behind me cheering me on and laughing at my mild panic attack. At this point, turning back wasn't an option. I knew I would regret it and I'd never hear the end of it from my family. I decided to get over it and went straight inside the chamber.
The last thing I could hear among the cheers and the laughter was my sister jokingly saying, "Mon, remember! Don't sit up if you get stuck!" Then the trapdoor gave way and my body started shooting down the vertical dip.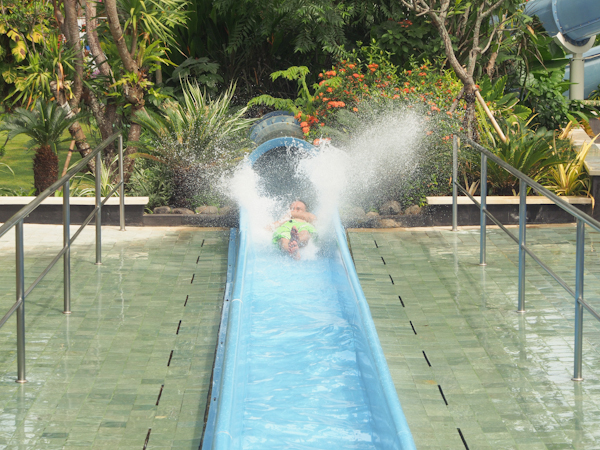 My Rockstar Moment
As I shot down the tube, I was at that point where the slide tilted up right before the loop. That's when I could feel my body slowing down and start going backwards. Before I knew it, I stopped moving. My sister's last words then came into my head. I just laid there reminding myself not to sit up while waiting for someone to rescue me. After a minute or two, a Waterbom attendant appeared at an escape hatch a few feet away from where I was. He was literally rescuing me.
I came out to a curios crowd looking down from the tower where the slide started. As soon as they saw me, they started cheering and laughing. I raised my arms to give a, "Yeah!" They just laughed and cheered even more. Apparently, that small scene I did right before going down the ride and getting stuck turned me into a temporary rock star. I didn't complete the whole ride, but this was a totally different experience and was definitely worth it.
So when you're in Bali, complete your trip by checking out Waterbom. I'm pretty sure you'll find something there for you to enjoy. You might just have your own rock star experience like me.
Rate:
Single Day – Adult US$ 31, Child US$ 19 (2-below 12 years old)
Two Day Pass – Adult US$ 50, Child US$ 31 (2-below 12 years old)
Hours:
Open daily from 9am-6pm
Location:
Heart of Kuta Beach across Discovery Shopping Mall
*Details subject to change. If interested in visiting Bali, contact us.