56 Filipino Travel Instagrammers
written on August 4th, 2016 by Monica Villarica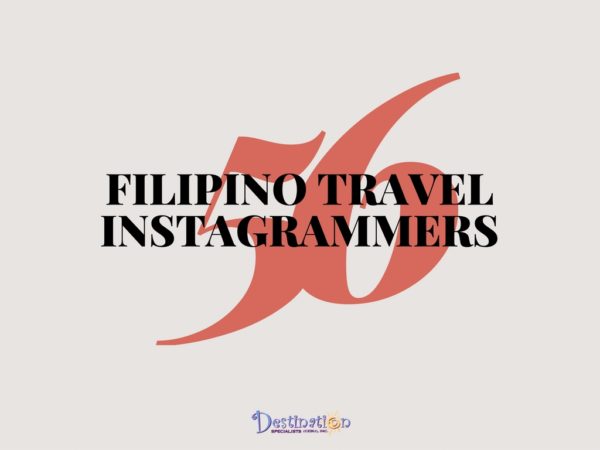 What a great time to be alive!
When travel is the most affordable it has ever been, there are more and more people seeing the world today then any other time in our history. And whenever we aren't traveling, there is always someone out there sharing their experiences.
Our favorite place to look is Instagram. Our company account @destinationspecialists is always looking out for beautiful photos and wonderful experiences. The best ones get regrammed on the account. Over the months of doing so, we've discovered many Filipino travelers sharing their experiences to the world.
These are our favorite Filipino Travel Instagrammers to quench that wanderlust inside of us: 
1. Nella Lomotan
2. Belle Gaitan @bellegaitan
3. Grayson Yanez
4. DD Abella
5. Paul Quiambao
6. Camille Ledesma
7. Clara Cayosa
8. Riel Manuel
9. Patrice Averilla
10. @akosichadkulot
11. Kimi Juan
12. Lea Goeson
13. Samantha Maristela
14. Enzo Cruz
15. Javi Cang
16. Rachel Halili
17. Benj Ramos
18. Alexis Lim
19. Vins Carlos
20. Yoshke Dimen
21. @thepoortraveler by Vins Carlos and Yoshke Dimen
22. Gay Mitra-Emami
23. Hannah Reyes Morales
24. Jan Mayo
25. Aye dela Torre
26. Isabel Cang
27. Cy Billones
28. Alexa Valiente
29. Kim Jones
30. Gem Muzones
31. Lisa Marie Mirasol
32. Ivan Henares
33. Edgar Alan Zeta-Yap
34. Darlene Madrid
35. Kris Aquino
36. @2monkeystravelgroup by Kach Medina Umandap and Jonathan Howe (just got married)
37. Aleah Taboclaon(author of Date a Girl Who Travels)
38. Paula Paralelo-Fernandez
39. Ferdz Decena
40. Glen Santillan
41. Michael Chitru Credo
42. Paolo Cuarteron
43. Karla
44. Mitch de Juan
45. Thomas Caja
46. Val Christian Andag
47. Anassia Azores
48. Bea Vega
49. Celina Sol Cruz
50. Chichi Tullao
51. Kyno @thekynoexperience
https://www.instagram.com/p/BHKKhCQjqiX/?taken-by=thekynoexperience&hl=en
52. Hannah Cepe
53. Aaron Palabyab
54. Gerald Tipones
55. Jonas Roque
56. Jantzen Tan